Person
Professor Emerita
History of Religions and Religious Behavioural Science
Centre for Theology and Religious Studies
I am Professor Emerita in History of Religions Lund University. My thesis A Landscape of Left-Overs: Changing Conceptions of Place and Environment among Mi'kmaq Indians of Eastern Canada (2001), is grounded on extensive field work, conducted in 1992-1993, 1996 and 2000. I have published several articles about indigenous cosmologies, animism, the phenomenology of landscape, the anthropologist in field, ecology and religion, ritual practices and new spirituality. I have also carried out field work in Tonga in 1998 and 2001, in the Peruvian Andes and the Amazon in 2004 and I revisited Mi'kmaq at Cape Breton in 2009.
In recent years, I have applied theories and methods from ritual studies and anthropology in a productive way by studying new ritual contexts in late modern Sweden. My discussions on ritualization and ritual practices, neospiritual therapy and coaching in contemporary Swedish society, has also attracted the attention in a wider public.
In the Research Portal you can search and find information about all active researchers, units, publications, projects, infrastructures, and more, to get an overview of Lund University research.
My profile in Lund University research portal
• Ledamot i European Forum for the Study of Religion & the Environment's executive committee 2015
• Medlem i SAR, The Society of Anthropology of Religion, American Anthropological Association.
• Medlem i NACS, Nordic Association for Canadian Studies.
• Medlem i The Society for the Study of Religion, Nature and Culture.
• Medlem i European Forum for the Study of Religion and Environment
Editorial Board
• Journal for the Study of Spirituality – gesut av Taylor & Francis group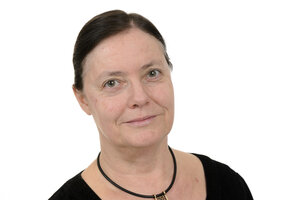 Professor Emerita
History of Religions and Religious Behavioural Science
Centre for Theology and Religious Studies