Online seminar: Saints in the Slavic Christian world (900-1400)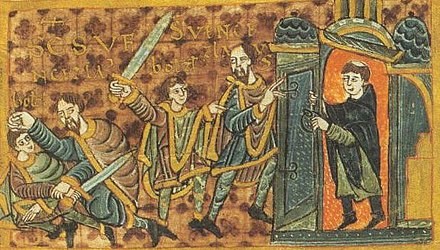 Saints in the Slavic Christian world (900-1400). Assessing culture, power, religion and language in Slavic hagiographies and religious literature. Online seminar, Tuesday 9th November 2021 from 13-17 (preliminary).
Prof. dr. Dieter Stern, University of Ghent: "Founder saints and the consolidation of Christianity among the Slavs"
Research fellow, Emil Hilton Saggau, Lund University: "Killing the Tsar again – power, revenge and warriors in early Slavic hagiographies"
The various Slavic realms of the early medieval period converted to Christianity in different pace and modes. This religious turn was also one that encompassed cultural and social change, which is mostly visible in the broad ranges of Slavic hagiographies and religious literature airings after 900. The formation of Slavic saints provide in-roads into the Slavic societies and their cultivation and localization of Christian culture and religion. The early Christian Slavic literature calls for further examination and assessment to shed further light on the shaping of culture, power, religion and language, which we hope this seminar will provide room for.
In this seminar, a range of scholars are invited to present and discuss this particular Slavic sense of Christianity in order to bring together different perspectives and methods on the topic. We invite speakers to focus on the brokering and shaping of Slavic Christian culture, power, religion and language, as its comes to the surface in these types of sources.
Papers focusing on conversion, power and hagiographies are in particular welcomed, as well as papers that discuss the development of Slavic saints and hagiographies in relations to Byzantium, Scandinavia or Western Europe.

The seminar is open for additional speakers.

Please send a title, abstract (200 word) and short bio to emil.saggau@ctr.lu.se before 30. September 2021.
Jointly hosted by Lund University, Ghent University and the Balkan History Association.
Seminar II
Programme, Thursday the 13th January 2022 from 9-17.45
9.15-30: Welcome by Emil Hilton Saggau
9.30- 11: Session I
9.30: "Serbian hagiographic literature during the Nemanjić dynasty"
Dr. Iašin Saša, associate professor at the Department of Slavic Studies in Timisoara (Rumania)
10.00: "The diversity of Saints in the City of Skhodra under the rule of the Nemanjić dynasty"
Dr. Ermal Baze, Associate Professor, Department of History, University of Tirana (Albania)
10.30: "Eat Straw, Wear Straw, Sleep on Straw, and you Will Be Saved" – Apophthegmata of St. Paul of Thebes according to the Visual Culture of Nemanjić Serbia
Dr. Nebojsa Tumara, Senior Lecture, St Athanasius College, University of Divinity, Melbourne, (Australia)
11.00-11.15: break

11.15-12.45: Session II

11.15: "Saint Adalbert and Saints Five Brothers Marytyrs - The Polish saints form the turn of the 10th and 11th century as the factors of the relation between the young Piast monarchy and western Europe."
Dr. Maria Starnawska, professor at Siedlce University, (Poland)
11.45 "Saint Sergius of Radonezh (1314-1392) in the Orthodox liturgical hymnography"
Hegumen dr. Panteleimon Karczewski, Orthodox Monastery in Supraśl (Poland).

12.15: "Conversion of pagan rulers of the Grand Duchy of Lithuania in the end of the 13th – the middle of the 14th century: controversial aspects".
Dr. Yanina Ryier, Assistant professor of Jesuit University Ignatianum (Kraków, Poland)
12.45-13.45: Lunch break
13.45- 15.15: Session III
13.45: "Anastasiya, Daughter of Yaroslav the Wise: Who Inspired to Restore the Christian State in Hungary as the Wife of Hungarian King Andrew Ist"
Dr. Sándor Földvári, independent, and part-time univ.lecturer Hungary, Debrecen Univ., Baltic Studies

14.15: How did the saints come to Northwestern Russia"?
Dr., professor Alexander Filyushkin, St. Petersburg State University, Russia
14.45: "Did Iconophile Theology influence Cyrillo-Methodian Conversion of Slavs?"
Dr. Ljubica Jovanović, American Public University System, Charles Town, West Virginia (USA)
15.15-15.45: break

15.45-17.45: Session IV
15.45: "Two-Verse Storytelling about Saints"
Dr. Ekaterina Dikova, Assistant professor, Institute of Balkan Studies and Centre of Thracology, Bulgarian Academy of Sciences (Bulgaria)

16.15"The Life of Saint Theodosius of the Cave and the genre tradition"
Dr. Dariya Syroyid, Associated professor, Ukrainian Catholic University (Ukraine)
16.45: Votive Masses in Glagolitic Missals
Dr. Kristijan Kuhar, Research associate & Ph.d. student Silvio Košćak, the Old Church Slavonic Institute in Zagreb (Croatia)
17.15 "New facts about the Cult of St Parasceve of Epibatae (of Tarnovo, of Belgrade, of Iashi) in Byzantium and about the connection between the Byzantine Vita and the Old Slavic hymnography and hagiography"
Dr. Evelina Mineva, lecture at National And Kapodistrian University of Athens (Greece)
Picture: The murder of St. Vaclav I of Bohemia in front of a Church 935. Gumpold's Codex.
About the event:
13 January 2022 09:15 to 17:45
Location: Online seminar
Contact: emil.saggauctr.luse